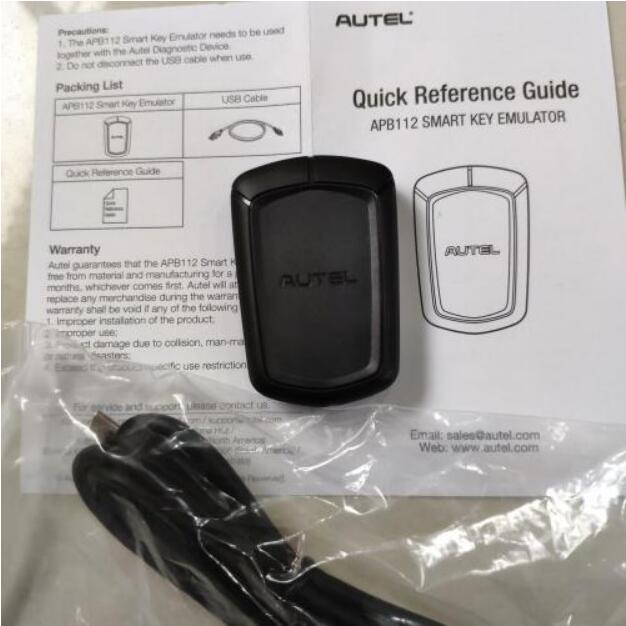 Look here: one little Autel APB112 Smart Key Simulator with one USB cable and one sheet of Quick Reference Guide

This Autel APB112 is used to collect the data sent from the ignition coil, aiming to identify the ignition coil troubles and decode the data of the vehicle key chip. It can also simulate the vehicle key chip.
By working together any of Auro IM100, Auro IM600, Autel IM508 + XP400 box, Autel IM608, Autel MaxiIM IM508 etc, Autel APB112 Smart Key Simulator has these capabilities:
46, 4D data collection …Confirmed
46 smart key password calculation …Confirmed
46 chip simulation …Confirmed
Toyota 4D (94/D4, 98) smart key simulation …Confirmed
Toyota H (88/A8, A9, 39) smart key simulation …Confirmed
Collects data from the ignition coil …Confirmed
Identify ignition coil troubles …Confirmed
Decode vehicle key chip data …Confirmed
Simulate vehicle key chip (ex – 4D chip) …Confirmed
Toyota/Lexus smart key all key lost …Confirmed
Chip decoding (Hyundai 46) …Confirmed
5 Steps to use AUTEL APB112 Smart Key Simulator to collect data:
Before operating or maintaining this unit, please read these instructions carefully, pay extra attention to the safety warnings and precautions. Use this unit correctly and properly.  Failure to do so may cause damage and/ or personal injury and will void the product warranty.
Do Not disconnect the USB Cable when use
Steps:
Plug the APB112 smart key simulator to Autel Diagnostic Device using the supplied USD cable.
2. After connection, the status indicator lights solid blue, indicating that the APB112 smart key simulator is working properly and then automatically communicates with the diagnostic device.
3. The APB112 smart key simulator application is automatically upgraded on Autel diagnostic device according to the selected vehicle system function
4. Place the smart key simulator close to the ignition coil for data collection, which is used for decoding the chip. After decoding, the original car chip data can be copied.
5. The emulator key chip can generate various types of key chips with subsequent upgrades according to requirements.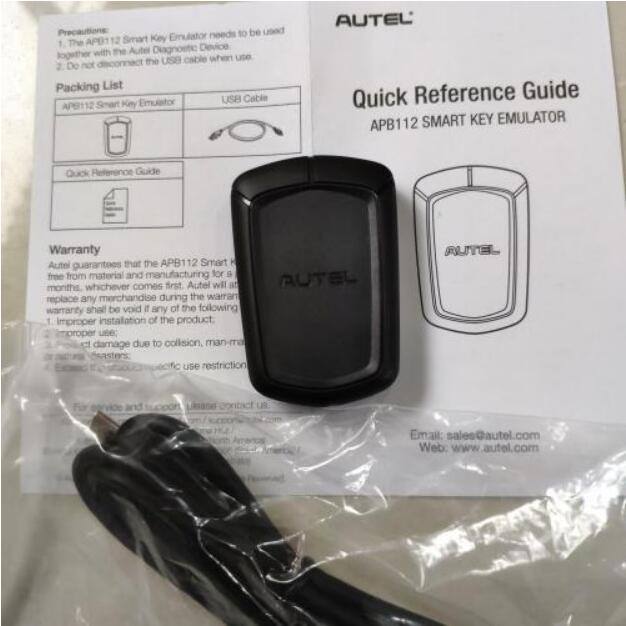 Interpretation of AUTEL APB112 indicator: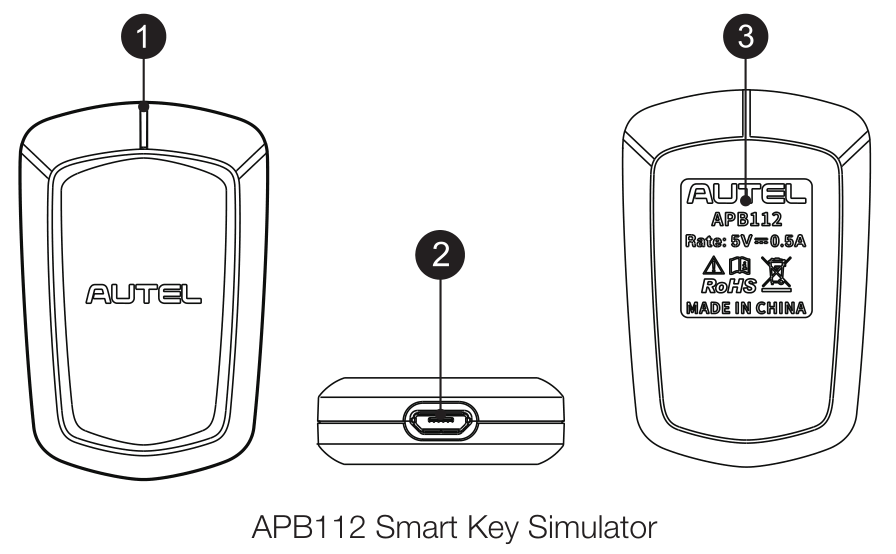 Status Indicator – Indicates The Current Status
1) Lights Solid Blue – the power supply is working properly and in default state;
2) Falshes Green – the data interaction status;
3) Flashes Red – the status of upgrading;
4) Lights Solid Red – the boot status
2. USB Interface – Provides power and data communication
3. Product Information
Free download: Autel APB112 quick reference guide
Images: