How to register Launch X431 V 8 inch tablet?
Tap "Login" on the upper right corner of the main menu screen: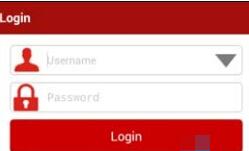 1. If you are a new user, tap "New Registration". see Fig. 2.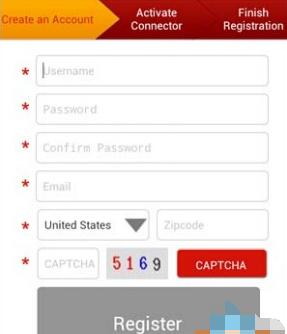 Note: To obtain better service, you need to provide real information. In Fig.2, fill in the information in each field (Items with * must be filled). After inputting, tap "Register", a screen similar to the following will appear: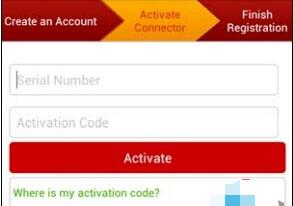 In Fig. 3, input the Serial Number and Activation Code, which can be found in the password envelope.

Note: To exit and activate it later, tap "Skip". In this case, you can activate your connector by tapping "Activate Connector" in "Profile".
Tap "Activate" to finish your registration. See Fig. 5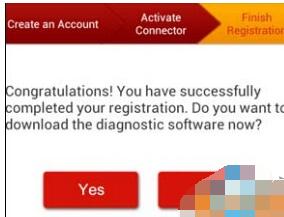 To download the diagnostic software, tap "Yes". See Fig. 6.
Tap "No" to download and install it later.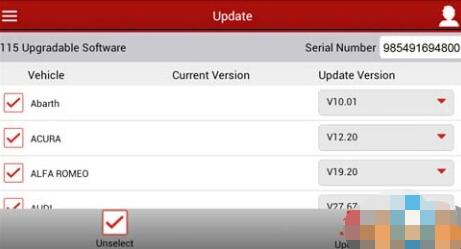 In Fig. 6, tap "Update" to start downloading. It may take several minutes to finish it, please be patient to wait.
To pause downloading, tap "Pause".
To resume it, tap "Continue". Once download is complete, the system will install the software package automatically.
2. If you have registered to be a member, input your name and password, and then tap the "Login" button to enter the main menu screen directly.
LAUNCH X431 V 8inch Specification:
Operating system     Android 4.2
CPU:     Quad core 1.3 GHz
Display     8" 1280 x 800 IPS display with 189 ppi
RAM     1 GB
Capacity (internal / SD card)     16GB (expandable by up to 32 GB)
Battery     4200mh rechargeable polymer lithium battery
Camera     Front-facing 2 MP camera and rear-facing 5 MP
camera with 1080p HD video recording
Communication     Wi-Fi: WLAN 802.11b/g/n
Bluetooth: Bluetooth 4.0
Working temperature      0℃ ~ 45℃
Storage temperature     -10℃ ~ 50℃
Diagnostic Connector:
Working voltage: 9 ~18V
Average working current: About 35mA
Standby current: About 25mA
Working temperature: -20 to 55℃
Storage temperature: -30 to 70℃
Storage humidity: <80%
Working humidity: <60%
Packing List:
1pc x  Launch Scanner X-431 V 8inch Tablet Scanner
1pc x Password Envelope
1pc x X-431 V 8inch Protection Sleeve
1pc x DBSCAR Diagnostic Connector (For connecting OBD II vehicles)
1pc x OBD II Extension Cable
1pc x Cigarette Lighter Cable
1pc x Power Adaptor
1pc x USB Data Cable
1pc x Non-16pin Connector  (For connecting non-OBD II vehicle)
Launch X431 V 8″ Scanner Package List
FAQ
Q:What's X431 V Dealer Code?
A: 755D
Q: How many car brands can it support?
A: It can support for 72kinds of car brands,such as Asian,European and American ect.
Q: Which website can I update my machine?
A: dbscar.com