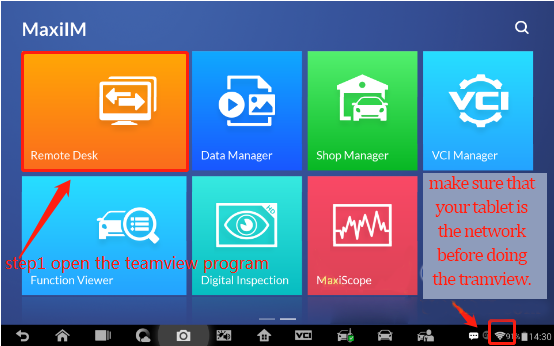 Autel MaxiIM IM608 is the most advanced and the unique all in one key programming and diagnostic tool that combines advanced key programming, all systems diagnostics, and advanced services in one Android based 10.1-inch touchscreen tablet. It is equipped with XP400 key programmer and MaxiFlash ECU programmer to provide complete coverage of IMMO and programming functions. Together with the ability to quickly diagnose all modules of the majority of the makes and models on the market, IM608 provides you with all special functions. It is the unprecedented key programming and diagnostic tool that you ever wanted
Extraordinarily powerful Cortex A7+A15 six-core processor
10.1-inch LED capacitive touch screen with 1920×1200 resolution
Internal reliable 64GB On-board Memory for better performance
Built-in 8-megapixel rear camera with autofocus and flashlight
802.11 a/b/g/n/ac Wi-Fi to access your favorite web resources
Open source Android Operating System for fast boot-up and multitasking
Powerful combination of advanced key programming/all systems diagnostics/advanced maintenance services
Professional key programming equipped with XP400 key programmer and MaxiFlash ECU programmer for complete Immo coverage
Smart mode for guided and automated key learning
Expert mode for advanced key learning
Read PIN/CS (all key lost), generate key, key learning, remote learning
IMMO ECU reset/adaptation, refresh/coding
Read/write transponder data, ECU/MCU/EEPROM data (eg. 9S12 encryption chip), IC card, detect remote frequency
Powerful OE level diagnostics for more than 80 US, Asian and European makes and models
Complete capabilities for codes, live data, active test, ECU information, adaptation, matching, coding etc.
All special functions, EPB, DPF, SAS, Oil reset, BMS, TPMS sensor ID relearn, etc.
How to Connect with the Autel IM608 remotely
To remotely connect to the Autel tablet device, here we use Autel IM608 as a demo to show the procedure.
Step 1: Open the teamview program(make sure that your tablet is connected to the network before doing the teamview.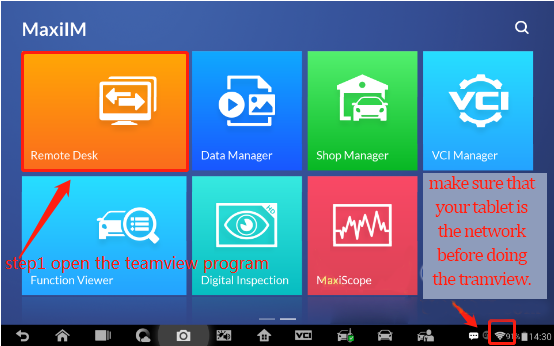 After entering the software, stay in the below page until the end. (Stay in this page until the tablet is connected from the other side. When the ID appears,tell the other side to input this id to connect)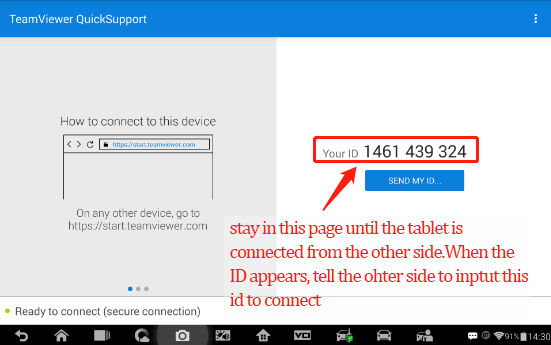 Page from the other side (PC end)to connect your tablet shown as below.(Input the teamviewer ID from the tablet then click connect)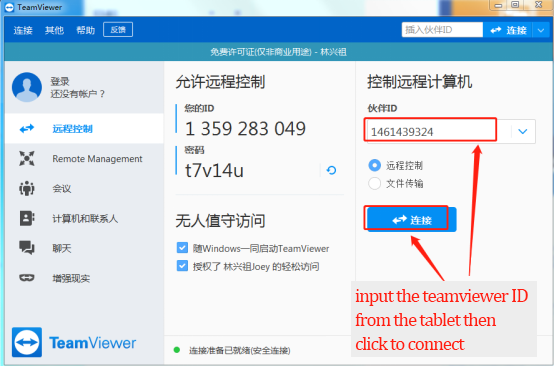 Click "Allow" so your tablet will be reomotely logged in from the other side.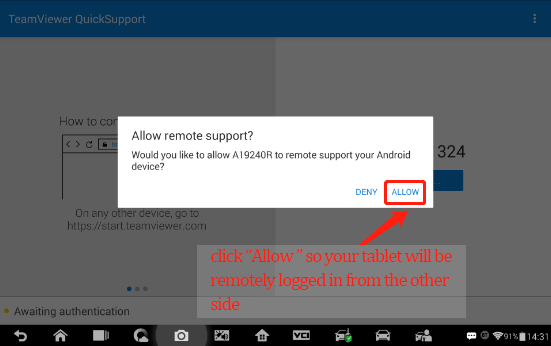 Now your device has been connected.