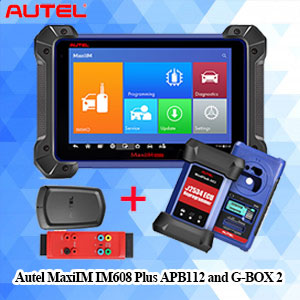 Autel MaxiIM IM608 is the most advanced and the unique all in one key programming and diagnostic tool that combines advanced key programming, all systems diagnostics, and advanced services in one Android based 10.1-inch touchscreen tablet. It is equipped with XP400 key programmer and MaxiFlash ECU programmer to provide complete coverage of IMMO and programming functions. Together with the ability to quickly diagnose all modules of the majority of the makes and models on the market, IM608 provides you with all special functions. It is the unprecedented key programming and diagnostic tool that you ever wanted
IM608 is a state of the art 10-inch Android-based touchscreen tablet combining the most advanced key programming and immobilizer capabilities with OE-level diagnostics and service functions. Equipped with XP400 key programmer and MaxiFlash JVCI ECU programmer, IM608 is a comprehensive immobilizer and key programming tool and ideal for auto technicians and locksmiths.It combines the most advanced key programming and immobilizer experience with advanced automotive diagnostics and service functions, a 10-inch Android-based, touch-screen tablet with the latest in art. Autel MaxiIM IM608, a comprehensive, ideal immobilizer and key programming tool for automobile technicians and locksmiths.
Autel MaxiIM IM608 Features:
The IM608 is an OE-Level Diagnostic and Service Functions as MaxiSYS Pro with additional software and accessories for IMMO and key programming.
Extraordinarily powerful Cortex A7+A15 six-core processor
10.1-inch LED capacitive touch screen with 1920×1200 resolution
Internal reliable 64GB On-board Memory for better performance
Built-in 8-megapixel rear camera with autofocus and flashlight
802.11 a/b/g/n/ac Wi-Fi to access your favorite web resources
Open source Android Operating System for fast boot-up and multitasking
Powerful combination of advanced key programming/all systems diagnostics/advanced maintenance services
Professional key programming equipped with XP400 key programmer and MaxiFlash ECU programmer for complete Immo coverage
Smart mode for guided and automated key learning
10. Expert mode for advanced key learning
11. Read PIN/CS (all key lost), generate key, key learning, remote learning
12. IMMO ECU reset/adaptation, refresh/coding
13. Read/write transponder data, ECU/MCU/EEPROM data (eg. 9S12 encryption chip), IC card, detect remote frequency
14. Powerful OE level diagnostics for more than 80 US, Asian and European makes and models
15. Complete capabilities for codes, live data, active test, ECU information, adaptation, matching, coding etc.
16. All special functions, EPB, DPF, SAS, Oil reset, BMS, TPMS sensor ID relearn, etc.
Autel MaxiIM IM608 Functions:
Read & Clear Fault Codes | Short description & code provided (can clear faults & warning lights)
Service Functions | Oil light / EPB / BMS / SAS / DAF etc
Access Live Data | Data from the ECU/Modulesnsors displayed in real-time (Oxygen sensor-rich/lean etc)
Actuation/Component Testing | Actuate (switch on/off) to diagnose functionality (relays, fans, locks etc)
Coding Functions | Allows you to change vehicle parts that need to be "coded" (Injectors, ABS, starters etc)
Flashing/ Reprogramming | Advanced updating/coding of ECU's online through a J2534 pass-through flashing device
Advanced Key Programming | IMMO functions, Transponder read/write/identify, MCU/EEPROM chip read/write
ADVANCED IMMO & KEY PROGRAMMING:
Connect the IM608 tablet to the vehicle (via the Bluetooth VCI or Main Cable) and to the XP400 (via USB cable) to access IMMO related functions, including Key Learning, Remote Control Learning, Remote Control Add, etc. The software provides two methods to access IMMO functions
Smart Mode – for Guided and Automated Key Learning – step by step through a series of functions.
Expert Mode – for Advanced Key Learning – select a specific function.
1). PIN / CS Reading (Full Lost)
2). Key Generation
3). Key Programming
4). Command Introduction
5). Backup / Repair IMMO Data
6). IMMO ECU Brain Reset / Adaptation
7). IMMO ECU Brain Reset / Coding
8). BENZ 3rd Generation IMMO Key Splicing, Full Lost, Key Programming
9). BMW FEM / BDC Key Programming and ECU Adaptation
10). BMW CAS4 / 3/2 Key Programming
11). VW / AUDI MQB Key Programming, 48 Transponder (96-bit) Key Splicing, Full Lost, A6 Full Lost and More …
XP400 KEY & CHIP PROGRAMMER:
Support PC
MCU / EEPROM Chips Read / Write
ECU Read / Write
MC9S12 Encryption Chip Read / Write
Key Read / Write
Mercedes Infrared Key Read / Write
Remote Frequency Detect
IC Card Read/Write
Autel MaxiIM IM608 vs. IM508 Comparison Chart:
Autel MaxiIM IM608 VS MaxiIM IM508 VS Auro OtoSys IM600 VS IM100