This is a the real user review of the Autel MaxiIM IM608, a fantastic diagnostic and programming system for universal vehicles. Credit to all contributors.
Review by Miriam Flores
I run a repair shop and have used all kinds of tools during my 20 years of career as a mechanic. Autel has lots of great tools, this IM608 professional key programmer is another excellent tool! When it comes to key programming, IM608 has much wider coverage than MK908P I already had. Had already used it in the past few days to solve adding keys, adding remote controls, all key lost problems on Toyota, Nissan and counting… Great product!
Excellent Professional car key programmer!
Review by Donna Armstrong
I have had a lot of different scanners over the years and this is the best and fastest so far.Compared with other competitors, this IM608 is much more the one I needed.It comes with MaxiFlash ECU programmer for complete Immo coverage.
Review by Ferkingstad:
Great scanner and easy to use.This was well worth the investment. The price was great.I highly recommend this IM608,It is equipped with XP400 key programmer and MaxiFlash ECU programmer to provide coverage of IMMO and programming functions.
Review by OmniVersatile:
I own the Im608. I purchased it because I wanted to do more key programming. My first vehicle I used it on, was a 2015 Fiat 500 NEC MCU in BCM. I could not find PIN in NEC, I was able to read with VVDI prog. So I purchased the Autel IM608, it was able to read pin no problem. Went to precode the transponder (Dealer key would have worked no problem but I was using aftermarket) and the IM608 would not get the needed information from IMMO (said Failed, Locked BCM, had to disconnect battery to regain communication)
So I called Autel support (China) I tried Autel USA but they didn't seem too knowledgeable. Autel support china within minutes could see the error on their server, they sent me Beta software for IMMO_FIAT to attempt and solve the problem. It worked perfectly.
All other vehicles I have tried have gone well, I was curious about Incode/outcode in newer fords. It programmed a key on 2018 Ford transit no problem, didn't ask for any pins or incode/outcode.
I only purchased the Autel because I have their Maxisys Elite and ADAS frame and I am very happy with their tools. I have never used a Lonsdor or OBDStar so I cannot comment on their performance.
One big bonus to the IM608 is you also get SCN Coding, VW online coding ect. I use the xp400 to clone modules all the time, VVDI prog used to be my "go to" but now Xp400 is.
Is it a rookie tool? Nope, if you're a rookie you'll probably be frustrated. But if you have basic EEPROM and MCU skills / Locksmith skills id highly recommend it.
Review by Farooq Nest Popaj
Power programmer!!!
I have completed the Mercedes E220 (All lost keys) New key works…
I 1st tried to pick up from yesterday with all the data, no luck, so back to basic reset the key started again and it all went through showing me the password, then write to the new key and IT WORKED thanks!!!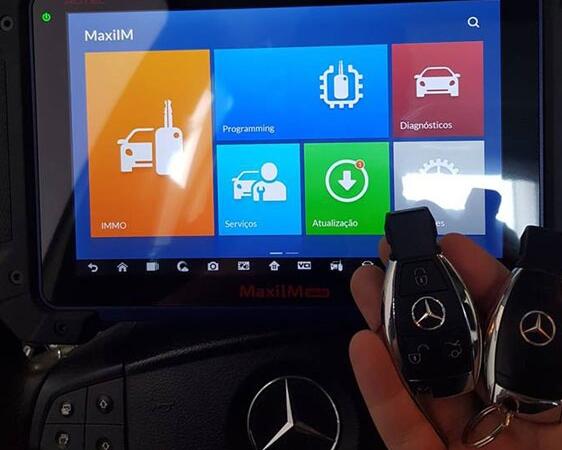 Review by Snass Gmih
Already Added keys on Golf MK5 2005 AKL, Honda Civic 2006, Scirocco 2011, really fast!!! Very helpful
Review by Oscar Bazan
Love it! It is so easy and fantastic to work!
Audi a3 2010 add key
Sprinter 2006 add key
Vw t5 2008 add key
Skoda yeti 2014 add key
Just waiting for "MQB" to be released…
Review by Lucas Costea
This is a stage 3 device that has locksmith level key coding and the same diagnostic software and special functions at the MS908. Plus it has a j2534 so you can program blank ECU module. Its a really good solution since everything is all in one scanner. Money well spent.
Review by Aracelio Maldonado
It is a multi functional machine,completing tasks rapidly.touch screen is lively and responsive.first impressions are good.well packaged and well built tool.i have yet to use ecu programmer,but am fairly confident it will not disappoint.I certainly recommend this seller and this tool.