V17.04.27 wiTech MicroPod 2 can work on Chrysler, Dodge and Jeep till year 2017. Here have collected some frequently asked questions from customer and offered the corresponding answers. Hope it's helpful!
Q: Which car model and year can be supported by V17.04.27 wiTech MicroPod 2?
A: Chrysler, Dodge and Jeep till year 2017 are supported.
Q: Does wiTech MicroPod 2 V17.04.27 support JEEP grand cherokee 2001 year?
A: Yes, it does.
Q: Can MicroPod 2 wiTech support online programming?
A: Yes, it can.
Q: Can wiTech MicroPod 2 V17.04.27 support flash BCM module? Other modules can? If have changed BCM module, can I backup BCM module by the software?
A: Online programming is supported, but cannot backup data.
Q: It prompts that the serial number is repeated on FCA, and cannot work with any FCA program.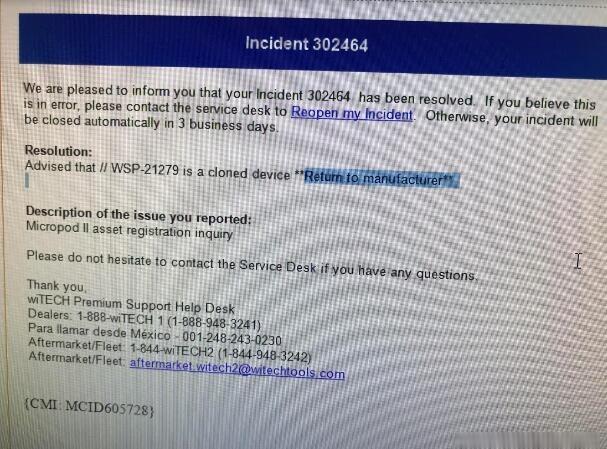 A: If the software you used is original, the wiTech MicroPod 2 device will be locked, because it's clone.
Q: The communication is not stable when use wiTech MicroPod 2, how to do?
A: Check whether the OBD interface has been connected well or not. Or change another wiring cable.
Q: I want use wiTech MicroPod 2 to do 2002 Dodge Ram. Do I need DRBIII software?
A: If the new software cannot detect your car, you'd better choose old software.
Q: I connect micropod 2 with my laptop, but there is not green light, only flashes red light.
A: Please check whether you connect micropod 2 with your car or not?
Q: I can't update the ECU without proper access by wiTech MicroPod 2.
A: You need to have an account from original factory so that you can program online.
Q: A registration error message pops up with "Device with serial number XXX is not registered. Please check the knowledge base to determine how to register a device" as shown in the following picture.