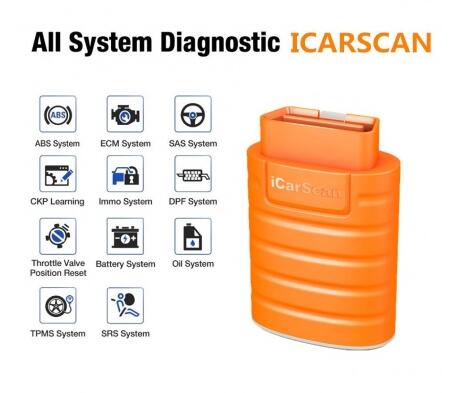 2020 Launch icarscan Full Systems Diagnosis For Android/IOS With 7 Free Software Powerful than X431 easydiag
Car Software List:
Cover up to 115 major car software, there are 39 software be ready.
FOR ASTONMARTIN
FOR HONDA
FOR PORSCHE
FOR SUBARU
FOR CITROEN
FOR MAZDA
FOR SGM
FORvW
FOR AUDI
FOR JPISUZU
FOR RENAULT
FOR SUZUKI
FOR DAEWOO
FOR FERRARI
FOR FIAT
FOR GM
FOR BENZ
FOR KIA
FOR ROVER
FOR TOYOTA
FOR MITSUBISHI
FOR NISSAN
FOR OPEL
FOR AUTOSEARCH
FOR BMW
FOR LANDROVER
FOR SAAB
FOR USAFORD
FOR SKODA
FOR SMART
FOR SPRINTER
FOR DEMO
FOR CHRYSLER
FOR MASERATI
FOR SEAT
FOR VOLVO
FOR HYUNDAI
FOR PEUGEOT
FOR SSANGYONG
FOR UPDATING.
15 maintenance functions to meet the maintenance vehicle repair and after-sales maintenance.
1.Oil Reset Service
2.Steering Angle Calibration
3.Electronic Parking Brake Reset
4.Battery Register & Battery Maintenance
5.ABS Bleeding
6.Electronic Throttle Position Reset & Learn
7.Diesel Particulate Filter (DPF) Regeneration
8.Tire Pressure Monitor System Reset
9.Anti-theft Matching
10.Injector matching
11.Air Suspension Reset
12.Gearbox Reset
13.Sunroof RESET
14.AFS Reset
15.EGR Reset
Note : These special function NOT for all car models, if you are confused, Please send your car brand, model and release year to seller to check it for you .