During operation John Deere equipment subject to wear and breakage of various kinds. Eliminate damage arising and ensure efficient operation of construction and forestry machinery John Deere, you should purchase this program John Deere Service Advisor v4.2.005 2016.
Program contains full guidance on service and repair of construction and forestry equipment John Deere, instructions for troubleshooting and calibration, diagrams and illustrations.
Service advisor provides technicians with the ability to connect to a machine over the JDLink? network without a physical connection to the machine. This feature allows a technician to:
– Clear and/or Refresh Diagnostic Trouble Codes;
– View Snapshot Captures and Recordings;
– Create and View user initiated Recordings;
– Program Remote Certified Controllers.
The program is designed to work with Windows XP, 7, 8. This software works under Windows 10, but there is a conflict in EDL adapter drivers.
This version of Service Advisor has built-in hotfix against error message:
"There was an error initializing the search Engine.
Unable to start the search engine."
John Deere Service Advisor V4.2.006 CF covers:
Hint: Click show all
4WD Loader
ADT
AG
Apollo Series
Axles
Backhoe
Boom Harvester
CF Management Solutions
Communication
Compact Excavator
Compact Loader
Crawler
Excavators
Feller Buncher
Felling Head
Forestry Swing Machine
Forwarder Wheeled
Harvester
Harvester Head
Landscape Loader
Log Loader
Logger
Mate. Hand Cut. and Shredders
Measuring System
Motor Grader
OEM Engines
OEM Winch
Other
PTO
Planetary Drive
Pump Drive
Scraper
Skid Steer
Skidder
Slasher
Software
Telematics
Tractor Loader
Tractors
Transmission
Truck
Utility Vehicles
Winch
Worksite Pro Attachment
Models on History DVDs:
Hint: Click show all
4WD Loader
Backhoe
Compact Excavator
Compact Loader
Compactor
Crawler
Excavators
Feller Buncher
Forklift
Forwarder Wheeled
Harvester
Harvester Head
Log Loader
Logger
Motor Grader
Scraper
Skidder
Tractors
Tree Harvester
Truck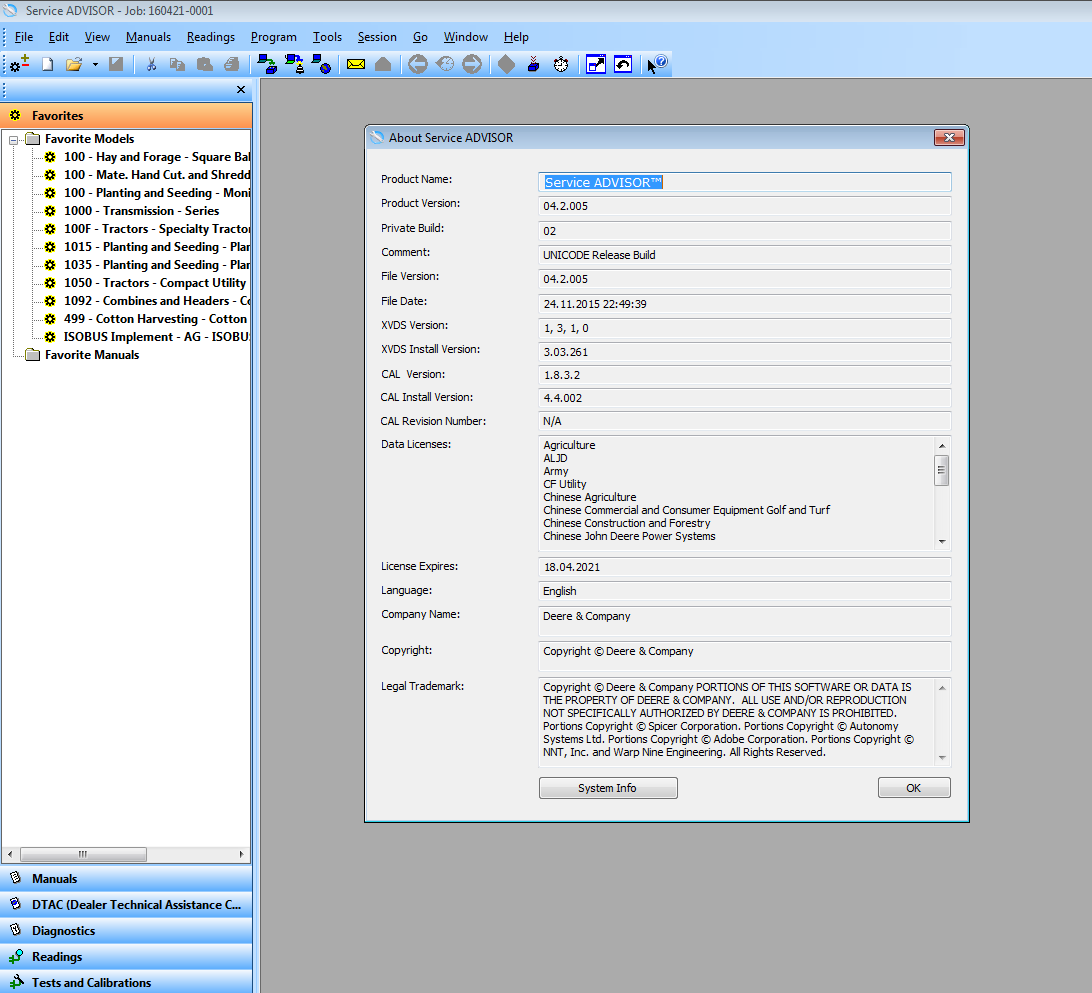 < a href="http://avdicommander.com/wp-content/uploads/sites/7/2020/07/John-Deere-Service-Advisor-4.2-Construction-forestry-2-2.png">