With so many professional diagnostic scan tools on the market, it is important that you select an OBD2 scanner that meets your needs. Autel is a top brand with lots of exceptional scanners to offer. But in this Autel MS906TS VS MS908 review, we will look at the AUTEL MS906TS and Autel MS908 scan tool.
Related: Difference Between Autel MS908 and MS906
The Autel MS908 and MS906TS have similar features but still, differ slightly. They look like an ordinary tablet with a large LED backlight screen for easy interpretation of results. Both of these scan tools are also powered by a built-in lithium-polymer battery. Additionally, they are compatible with a wide range of vehicles manufactured from 1996 and newer.
Related: Autel MS906 VS MS906BT VS MS906TS [Features Comparison Table]
If you don't know which scan tool to choose between the Autel MS908 and Autel MS906TS, then you have come to the right place. We have highlighted the features, benefits, and setbacks of these two scan tools to make your work easy.
Comparison Table: Autel MS906TS VS MS908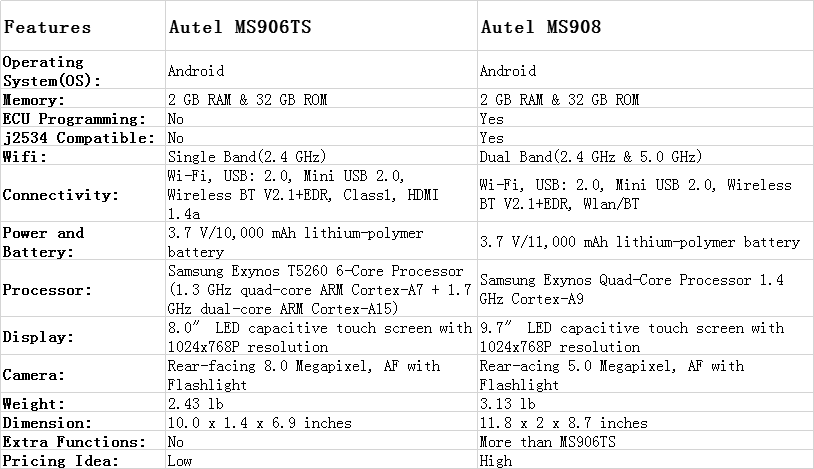 Autel MS906TS Diagnostic Scan Tools Detail
The Autel MS906TS scan tool is a portable and convenient scan tool for auto mechanics as they can roam with it easily around the garage without being glued inside the car as they perform different diagnosis. Thanks to its wireless connection that is stable and lightweight design. It also features a powerful Samsung Exynos Hexa-core processor and Open source Android operating system for fast boot-up time and multitasking.
The device has outstanding OE-level functionality from comprehensive OBD2 diagnostics and services to advanced ECU coding. Furthermore, it has a uniquely integrated TPMS service application created for triggering known OEM TPMS sensors, performing TPMS sensor relearn procedure, and programming Autel MX-sensor. A great feature of this unit is its improved wireless connectivity between the display tablet and VCI gadget that allows greater mobility and ease of work.
It features an easy and intuitive user interface that allows even beginners to have a simple time utilizing the diagnostic scanner. You can use this scan tool on more than 80 US, Asian, and European vehicle makes and models. The automatic free updates allow you to have the latest software and it comes with a one-year warranty. This is a nice tool for busy car repair shops or technicians.
Pros:
It is an ultra-fast gadget
It is compact and lightweight
MS906TS covers a wide range of vehicles
It has an excellent run time of up to 14 hours of continuous use
Sturdy construction for durability
It comes with an automatic system and software updates
The tool has a wireless connection for greater mobility
It has a one-year warranty
Cons:
The scan tool is quite expensive
The device features free software updates but they only last for a year
Autel Maxisys MS908 Automotive Diagnostic Scan Tools Detail
This is another high-end Autel scanner. The Autel MS908 professional code reader is a reliable and accurate scanner that provides exceptional OE-level coverage. It has an ultrafast advanced dual-band Wi-Fi that is twice as fast as any former generation of diagnostic systems. It allows the mechanic to easily roam around the garage as they update the device or diagnose a car.
With the AutoVin technology, you will be able to identify CAN vehicles in just a single touch and together with the AutoScan feature, the MS908 scan tool is one of the most intelligent scan tools on the market. The diagnostic scanner is also compatible with more than 80 US, Asian and European vehicle makes and models.
Featuring the unique and fast A9 quad-core processor and open source Android operating system, this is not only the fastest scanner ever in the market but it also allows you to multitask. The large 9.7-inch LED capacitive touch screen makes interpretation of results to be quick and easy. Get this scan tool if you want to perform basic, special, and advanced functions.
Autel Maxisys MS908 Automotive Diagnostic Scan ToolsCheck Price
Pros:
It is very easy to use
It can run up to 8 hours continuously
The MS908 covers more than 80 US, Asian, and European vehicle makes and models
It is very fast and simple
It performs basic and advanced functions
Ultrafast wireless connection
Excellent technical support
Cons:
You will be charged some fee to translate your device from English to Spanish or French
It is somehow expensive and not for the ordinary or startup mechanic
Which is Better? Autel MS906TS or MS908?
If you are a professional technician or mechanic looking for a professional diagnostic scanner with outstanding features and functions, then the two scan tools that we've looked at are a great choice for you. Apart from that, these scanners offer benefits such as wireless connection and run on built-in lithium-polymer battery. They are also very easy to use and provide accurate results.  You won't delay knowing why your check engine light is on as they are very fast and allows you to multitask.
In case you are slightly tight on the budget but want a professional grade scanner, then the Autel MS906TS is a good choice. But if you want to perform more advanced functions, then the Autel MS908 scan tool will be a great fit for your job.