13

Dec
SKP900 Car Key Programmer Tool Reviews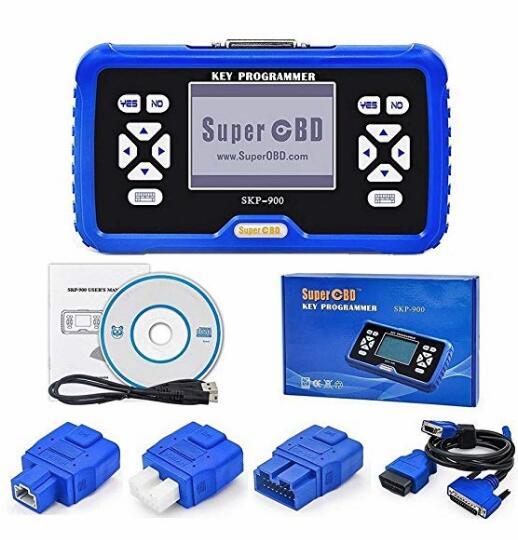 Newest software version: V4.5 , Update online for free forever , Supports TOYOTA G CHIP ;
SuperOBD SKP-900 SKP900 Key Programmer Unlimited Tokens is hand-held key programmer, supports almost all cars in the world , SuperOBD SKP-900 key programmer doesn't need pincode when programming keys for many vehicles ;
SuperOBD SKP-900 Key Programmer can programme keys for almost cars directly, no pin code need. But for few cars, you need buy extra item to get pin code, for this, you can choose VPC-100 Pin Code Reader ;
Dealer code for registers: 1001 , SKP-900 is with 50 tokens, after you use up, you can go to the SKP-100 official website to get more tokens, It is for free, Just need Registration.
SKP900 is good for American cars after 2006, especially Good for Landrover.
Arrived early. Worked great. I used on a 2011 Ford Explorer. 10 minutes and done. The process take 10 minutes due to the Ford security protocol. No instructions included. There are plenty of how to videos on the web. Straight forward process. Be sure to ask seller for compatibility with your vehicle. Also, be sure you have a bona fide OEM ignition key. My Key Programmer was shipped from Hong Kong (same unit pictured). Again, the unit worked as promised. I hope this helps someone. Like so many people, I purchased a car with only 1 key. Local dealer wanted 300.00 for 2 additional keys and programming. Between the keys and the unit, less than half spent. Maybe I can help a friend or family if in need. If I never use it again, its paid for itself.
Purchased it to reprogram a FOB on a 2003 Durango. Although it can perform certain read functions, it was unable to get the code needed for FOB programming. The advertising is a bit misleading since it will not do all functions for the cars listed.
Dealer wanted $300 to program a new keyfob. I bought this unit and a used keyfob for a total of just under $200. had it programmed in less than 10 minutes. I used it again a few months later when we bought another used car. I'm very happy with this unit!