10

Oct
My questions about icarscan?
I've ordered my icarscan from obd2tool on line and am waiting for it to arrive.
My question is which of the functions should I download? Some I cant figure from the pictograph and abbreviation. Does anyone like the guy selling this unit or those of you who have one, have any guidance on what some of the things mean? I've asked this three times on here, but haven't got a response. I think I only have 11 choices and 10 picks so I only have to give up one. What do you think?
Here is a brief introduction of special functions in the main menu and that under a model.
1. Special function in the main menu
If users choose special functions in the main menu and select one, then users can perform this function for all models developed in the list.
For example, users go to Special Functions in the main menu for oil reset, they can reset oil for all cars listed there like BMW, Toyota, Honda and cannot go to diagnosis or others.
2.Special functions under a model
That is a special function like oil reset after users go to BMW software.For example, users go to BMW software, there must be lots of functions incl. Special Functions. Then, they can select oil reset for the BMW mode
Does that mean if you pick oil reset under the main menu it is a function of all cars listed, but if you don't pick it you can maybe find it under a specific car brand?
Key reset, wouldn't that be great for our porsches, but i'm guessing it doesn't do them. I need a new key for both a cayenne and a miata.
So here is the list of special functions Do we get to pick 5 or 10? . I would guess I want
1. reset oil,
2. I'd be willing to try the key function in hopes it will work with some car on my list.
3.What does the Battery MS one do?
4. What is the difference between Bleeding and rest brake?
I'm trying to do the 100k service and so I"m changing the oil and all air filters, I"m just curios what I"m going to get for my $225,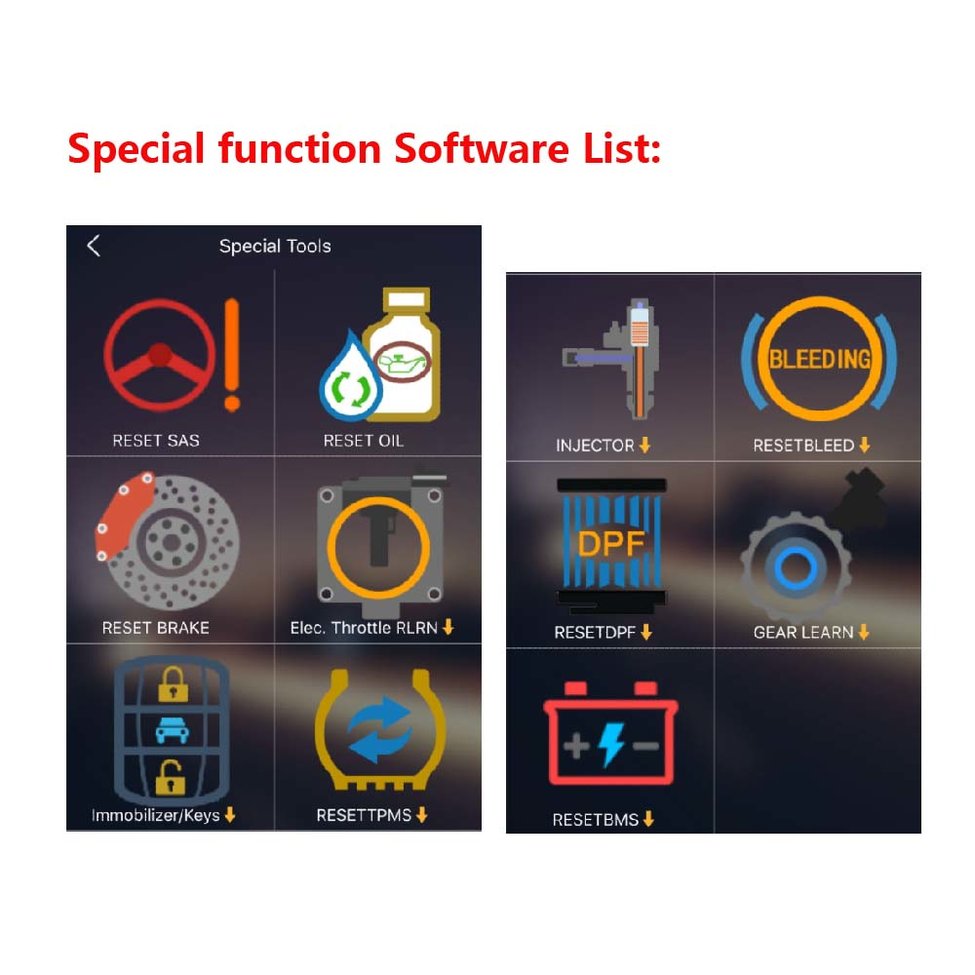 The ICARSCAN really isn't critical for your Porsche. Anything you can do with those generalized tools (and some of them do not work with Porsches) you can do within the actual Porsche diagnostics application. Somewhere on one of the sites that sell it – there is a list of which cars those special items work with – most of them don't work with Porsche – but they may work with one of the other manufacturers you choose – or even with manufacturers you didn't choose. When I got mine – I wasn't required to select these when I registered the unit with them, so I didn't. Then in the Porsche application I noted which of those could be done within the application – and basically found any of them if they applied to a Porsche could be done with the Porsche tool. I forget what I finally chose – probably brakes since most cars will need brakes sooner or later, the light reset since it seemed setup for any vehicle and ditto on the oil (although I know that doesn't work with a Porsche..) When you select one – a screen opens with "Update Notes, Vehicle Coverage, Version) – click on Vehicle Coverage to see what manufacturers it works with. Reset Bleed does work with Porsche.
I wouldn't panic. If the registration is like mine was – I had a year to select all this stuff and what manufacturers diagnostics I wanted. Initial choice was Porsche, BMW (have a lot of friends with them), Toyota (covered the Lexus)
you can pick any 10 you want. 10 car brands or 3 special functions and 7 car brands etc. whatever adds up to 10. I have an iPhone and had to choose all 10 at the start. Tried selecting just porsche and then continuing. Wouldn't let me do it.
The Porsche specific one resets oil and tons of other stuff. That's what I used for my reset yesterday. Next time I'll try the special function to see if it works the same.
I just selected car brands I or family members have, then did the rest as special functions in case a friend needs a reset etc on a car brand I didn't select. I have no idea what brands the special functions do and don't work on, but I'd imagine it works on most. I was mostly concerned with the brands I own. As for the reset brake vrs reset bleed I have no idea the difference and haven't played with that yet. Also have no idea for the resetBMS…. Only played with the Porsche specific side so far and it does all the special functions as far as I can tell specific to Porsche.