03

Jul
This Autel scanner performs full OBD2 functions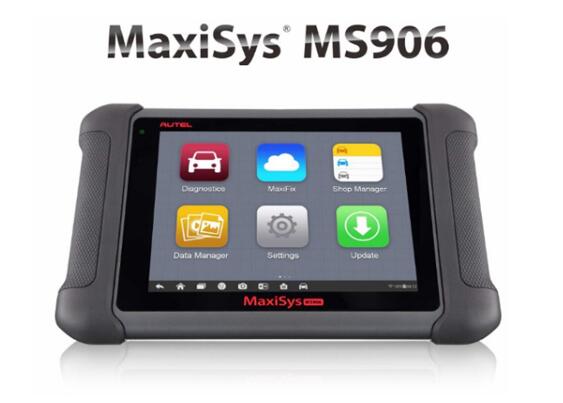 Functionality
1.Read and clear OE-level codes for all the available vehicle systems. That includes engine, ABS, transmission, instrument panel, SRS and more.
2.Provides live data. Besides offering real-time diagnostic feedback, live data also helps when you need to turn off warning lights.
3.Supports actuation tests, adaptation, and matching. For instance, you can use it to program the ECU, tire pressure monitor and keys.
4.Reset oil service, EPB, SRS, ABS, SAS, and TPMS relearn.
Although the Autel MS906 is primarily an OBD2 scan tool, it also supports full OBD1 diagnostics. But you will need the OBD1 adapter for the vehicle in question.
Smart AutoVIN
One of the best features of the Autel Scanner Autel MaxiSYS MS906 is its ability to identify a vehicle with one touch. This AutoVIN function detects a vehicle's VIN number from the ECU then records and stores it. If the AutoVIN feature fails (which is almost never) you can still enter the vehicle's details manually.
Connectivity
The scanner has a built-in Wi-Fi module. Besides downloading software updates, the Wi-Fi also allows you to go online. While there you can access tons of helpful diagnostic and repair resources. In case you run into any issues you can also contact Autel through the online platform.
In addition to Wi-Fi, the Autel MaxiSYS MS906 also supports USB connection. You can connect it to a PC very simply using a USB cable.
Data management and presentation
As mentioned already, the Autel MaxiSYS MS906 is fitted with 8-inch LED touch display. You can view data directly from that screen. If you don't fancy that you can print it out on paper via a USB connection to PC.
All diagnostic data remains stored in the scanner's 32GB internal memory. You can retrieve it any time. But there's an option for manually deleting data that you don't need anymore. If you just want to delete data so as to create some storage space you could consider transferring it to a PC instead.
Camera
At the back of the Autel MaxiSYS MS906 from OBD2TOOL is an 8MP camera that has a flashlight. It is meant to help you take pictures whenever you need to. Since the device is Wi-Fi enabled, you can share the pictures online with technicians and other experts or DIYers. They may help with whatever problem you are facing.
Construction and Design
The Autel MaxiSYS MS906 is not just made to get the job done, it is also designed to withstand rough and tough use. The outer surface features a heavy-duty plastic encasing. And while it can survive a heavy fall, you obviously need to treat it with care.
Inside the scanner is a 5000mAh lithium-polymer battery that provides up to 4.5 hours of continuous use. You don't need to have it plugged into the car's cigarette when using it. Consequently, you won't have to worry about the possibility of the Autel MaxiSYS MS906 draining your car battery.
The total size of the scanner is 10 x 1.4 x 6.9 inches. Its weight is 22 pounds. That's a perfect size for portability as well as storage.
Overall, it is a well-constructed device that looks like a tablet in so many ways.
Whether it is the sleek look, fast data processing or exceptional diagnostic performance, it's a guarantee that there's at least one thing that will pick your interest the moment you try out the Autel MaxiSYS MS906.
Pros
Updates software automatically via the internet.
Comes with 12-month warranty.
Uses Android OS which has a reputation for fast speed and excellent multitasking.
Camera makes it easy to capture parts and share them with the online community of technicians.
Easy to use for anyone who knows how to operate a smartphone or tablet.
Cons
The one thing that is undesirable about this scanner is the amount of time it takes to recharge the battery. It really needs a lot of time, and if you're in a rush that may be an inconvenience. On the upside, you can use it as it charges.
Comparision
One reason why the Autel MaxiSYS MS906 is a favorite for many technicians and DIYers is because it balances functionality and design almost perfectly.