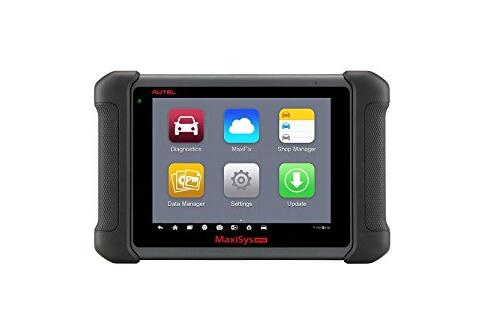 The Autel MS906 OBDII scanner is a diagnostic tool that scans a wide range of glitches on cars from many motor vehicle manufacturers including:
* BMW
* Benz
* Dodge
* Audi
* Other OBDII cars
The Autel MS906 is a next-gen device packed with attractive features. Unlike most scanners in the market whose primary function is to detect issues, you can do more than identify issues with this scanner; it reconfigures keys when you have key codes from the cars dealer. You can reset many systems with this gadget from checking the condition of ABS to the engines light.
Just as the Autel Maxisys suggests, it's a professional unit designed to be used in car shops. However, if you are able to purchase one for yourself, it's the perfect scanner to have in your garage too.
This diagnostic tool works with WI-FI which connects to smartphones and computers. We will take a more in-depth look at the features and functions of Autel MS906 from www.obd2tool.com to understand why its rated so high.
The scanner is compatible with IOS and Android-powered smartphones that support the OBD car app. It works with WI-FI to connect to these phones and allow the device to search for and download the latest updates for better performance. You need a strong wireless connection for it to work.
You can connect it to your tablet or laptop using a USB cable where you can run many tests and backup data from the scanner.
The scanner has a huge eight-inch screen which is a touchscreen with a resolution of 1024* 768P. This resolution gives excellent clarity, the best in the market. The scanner has digital keys, just like the ones on a touch phone, you have to click on the screen to navigate its system
Software
The scanner runs on the latest versions of Android and IOS to run a diagnosis of your car. Being a new gen device, it won't support phones running on old operating systems.  Fitted with Samsung Exynos 6-Core processor, the scanner performs at high speeds to give readings on various workings in the vehicle.
The scanner comes with an in-built battery which is used to power the tool. It has an 8-megapixel rear camera with flash. You can take photos and upload to Autels forums online where you can find solutions to snags from other users.
Features of the Autel MS906 Professional scanner
* Performs full OBD2 functions; it reads diagnostic codes, interprets them and erases codes
* It streams live data to your phone
* It's compatible with over 80 car makes
* The scanner does graph analysis with recording modes that help track the history of your car's performance.
* The AutoVIN tech reads your cars VIN to get the car's information and runs extensive examination on many systems to check for issues.
* The tool can reset many systems like the ABS and the engine light by checking the condition of ABS.
* With this device, you can access over 3000 generic code definitions.
* The device supports all iPhone 5 and later models, Android phone operating Lollipop and following models of the OS. It is also compatible with Windows