MB STAR SD Connect 4 and MB STAR C5 are two popular Mercedes Benz Diagnostic Tools in the marketplace,just as we have known, Autel Tools MB SD Compact 5 was the updated version of MB SD Connect 4,they shared many commons,so,today,this article will presents a comprsion betweenMB SD Compact 5 from www.youobd2.com and MB SD C4 to help users better know about these two device.
MB SD Compact C5 vs MB SD Connect C4
The Same
1.Diagnostic Tools For Mercedes Benz Cars & Trucks.
2.Used same software.
3.multi-Languages supported.
4.Connected By OBD2.
5.support wireless diagnose.
6.Comes with a free HDD.
The Different
1. MB SD Connect 5 with new design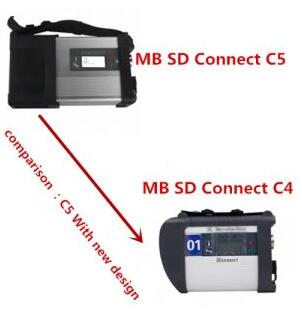 2.O/S requirement : C4 was Windows 7 ,C5 was Windows 7 and Windows 10.
3.MB SD Connect 5 can support more newer vehicles,see comparison between them : MB SD Connect 4 : Mercedes Benz Car, Bus, Truck,Sprint, Smart from 1989 up to now,MB Compact 5 : Mercedes Benz Car, Bus, Truck,Sprint, Smart from 2000 up to now,special for 2015 new models like W222, W221, W212, W203, 211,204,GL166, B 246, CLS 218, SLK172.
4.New MB SD Connect Compact 5 Star Diagnosis not only support K line diagnose and CAN BUS,but also UDS diagnose protocol.
Because old MB STAR C4 main board do not have UDS chip, so old MB STAR C4 can not support it.
So,if you wanna buy a Mercedes Benz car diagnositc tool and cant make a choice between MB SD C4 and MB SD C5,then you can give check this article,maybe it will give you some useful tips. In all,if wanna a tool to support more car list,then buy MB SD C5 will be your choice.otherwise MB STAR SD Connect 4 will be your choice,the different between them are mini,and MB SD Connect C4 has launched the marketplace for ages with many good reviews and the price is affordable too.