This is the useful tip for Communication error (1.58642.0) in Mb Star C3 XENTRY after connecting the Mercedes E -Class W212 to program generates, offered by mbstartool engineers.
I connect the C-class W204 2010 year by the program Xentry and everything works OK.
I connect the E-class W212 2010 year by the program Xentry and then it is NOT OK. Displays this error message as below: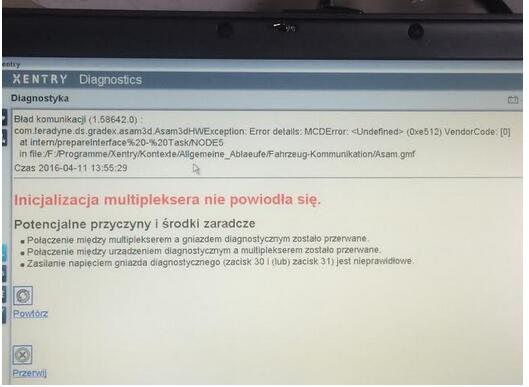 Diagnostyka
Blad komunikacji (1.58642.0);
Com.teradyne.ds.gradex.asam3d_Asam3dHWException: error details: MCDError: <Undefined> (Oxe512) VendorCode: [0] at intern/prepareInterface%20-%20Task/NODE5 in file…
Inicjalizacja multiplexeksera nie powiodla sie.
………
Error messeage in English:
Diagnostics
Communication error (1.58642.0);
com.teradyne.ds………
at intern/prepare……………..
in file:F:/………..
Time 2016-04-11 13:55:29
Initialization multiplexer failed.
Possible causes and remedies
*The connection between the multiplexer and the diagnostic socket was broken.
*The connection between the diagnostic tool and the multiplexer has been discontinued.
*Power supply diagnostic socket (clamp 30 and (or) terminal 31) is incorrect.
Problem solved!
Mb star c3 mux cannot support Mercedes W212. W212 should be programmed by SDconnect C4 or BENZ Star C5 connect.
New models like W222, W221, W212, W203, 211,W 204,W207, W212, GL166, B 246, CLS 218, SLK172 and Smart405, 451, 452, 454 cannot be diagnosed or programmed by MB Star C3 scanner.